What? Me? In my first bee? Say it isn't so! Now, most of you might be thinking this is coming out of nowhere - it is! Our bee started last month, but I just haven't been blogging anything that's been going on :( I'll be catching up this month though, from old blog hop comments I haven't left to responding to comments here - it is still going to happen! Just super late! (Honestly, my heath has been a real barrier for me this past month, but that's a post for another day) If, instead, however, you're wondering why I was first on the bee list, it's because I got an email notification, read the words "blog hop" and "scrap bee" and ran to the computer to send my email confirmation. :| Um, needless to say, I'm excited!! Bees seem like so much fun, and I've been slightly hesitant to join one since it's all new to me. I don't really want to risk disappointing anyone, you know? Well, a bee of mostly newer bee members and a lot of people with a forgiving nature seem to be in this one, so I think it'll all be ok ♥
So, now, then. The block! I did think about this, but honestly not very hard. I could've gone with a new block for a totally new quilt, but I have to be that person that knows you've all made this before and so it's a safe bet...for a quilt I already have in progress and don't know when I would have the stash to finish...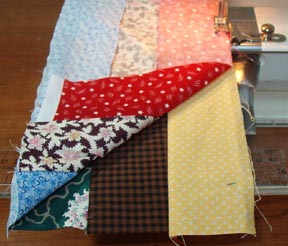 Yes, the
Scrappy Trip Along
!! No additions, changes, or adulterations, just the original thing ♥
Hey, I know everyone'll know how to make it, and it's the type of quilt so suited for multiple people's stashes! No rules on fabrics really, but I did want to share how I sort of compose my fabric choices for each block so you can sort of see how my creative process has been working on this quilt so far. That might help guide your choices a little bit!
I have a sort of silly habit of wanting "themes" for all my blocks. I do this fairly often, actually, although usually I think that it's subtle enough that no one notices but me, ha :) So far, I've done one of all one fabric line (Posy), one cool-colored florals with a pop of orange, I have eclectic, modern brights, a sort of picnicy thing, old fashioned florals and...uhh...well the last one doesn't really have a theme I guess haha. European holiday? Anyway, for me it sort of adds a layer of fun to selecting fabrics; not only should they coordinate but also if they fit the theme that's like bonus points!
I think this mosaic gives a good sample of the fabrics I've used so far, the feel I'm getting from it, and a good overall sense of my fabric taste! I tend not to use too many super dark fabrics, or too many solids. I don't usually go for traditional types of fabrics, either. Besides that, just have fun and if you want, include some sort of theme. I'm planning on doing an all-pink block soon, and probably another nature/woodsy one. I wanted this quilt to be sort of commemorative of my stash, and now a little bit of yours, too! I'll probably end up adding a few more blocks to it from my stash after the end of the month, since it's grown a bit since the last time I made some of these, and have a really giant, awesome, scrap-bee quilt ♥♥
Since I know I've been a bit vague about fabric choices & whatnot, if you have any questions or concerns or anything, please feel free to let me know! I'm usually around, even though I haven't been posting recently (again, I will be posting an August-Recap at some point. I can't believe it's been a full month, my goodness). I can't wait to see what you guys put together, oh my gosh!! ♥